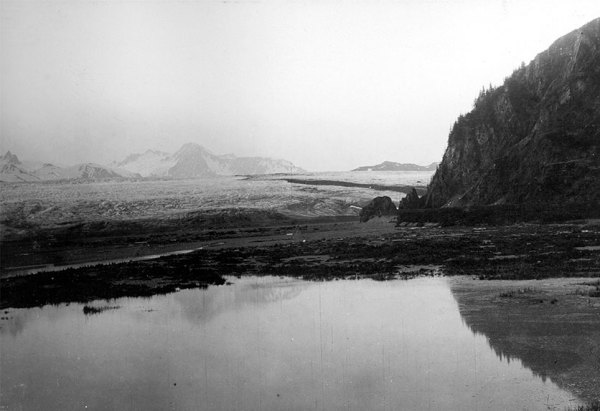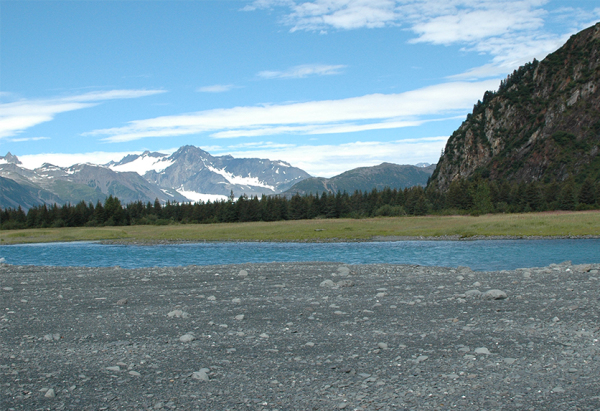 The Same Alaskan Glacier-2005
At the time of compiling this Climate Change report using evidence from several climatological bodies such as NOAA and NASA we here in the UK have been experiencing some exceptionally warm February conditions with near record breaking warmth, not just by degree of temperature reached but certainly by it's longevity. While I hesitate to associate this weather event to 'Climate Change' in itself it does support the theory of weather records both here and worldwide are becoming broken more frequently adding to the evidential fact that year on year temperatures continue to rise globally.


In compiling this report I have tried to include images and diagrams supporting the evidence as it stands today using the 'then' and 'now' theory by photograph. Note the later photographs were taken in the same month as it's older version in order to displace seasonal changes.


While I confess the following is a 'heavy' read and full of facts and figures I have tried to keep a very complex subject in terms that most of us understand.


So here goes...


The first part contains 10 most common myths that people quote to me in their failure to believe that 'Climate Change' is real and not just a natural evolution.

1. THE MYTHS
1. "CO2 IS NOT A POLLUTANT. IT'S A GREEN GAS WHICH PLANTS, CROPS AND TREES NEED TO GROW."

This is true, but in the context of climate change, this is misinformed.


Yes, plants need carbon dioxide (CO2) for photosynthesis as humans need oxygen for respiration.


In fact, the world's forests store and cycle huge amounts of carbon.


However, there's a limit to the amount that they can be stored in any given woodland area, and with deforestation increasing this limit is getting lower.


CO2 itself does not cause problems; it is part of the natural global ecosystem.


The problem is caused by the quantity being released by human activity: there hasn't been this level of CO2 in the atmosphere for 800,000 years.


Our carbon emissions are contributing to the greenhouse effect – trapping heat and making the Earth warmer.
2. "CLIMATE CHANGE HAS BEEN HERE AT LEAST 5 MILLION YEARS, YOU FOOLS!"

In its basic sense, this statement is true (except for the last part, which they must obviously be mistaken about!) The Earth's climate does go through natural cycles of warming and cooling.


Our current warming being experienced is completely out of sync with previous cycles – it is so much higher!

However – and it's a big, however – when people talk about climate change today they mean anthropogenic (man-made) climate change, this is how the Earth's average temperature is warming
because of human activities such as burning coal, oil and gas for energy and cutting down trees to make way for agriculture.


Climate change is currently happening to an extent that cannot be explained by natural factors alone.
Global temperatures have been rising for over a century, accelerating in the past 30 years, and are now the highest since records began.

The global scientific community widely agrees that the warming we are experiencing is man-made… you fools!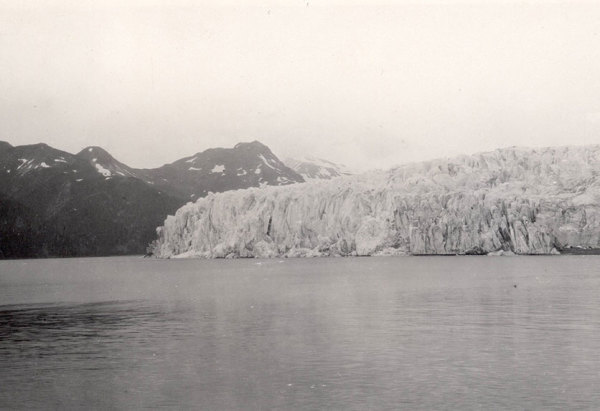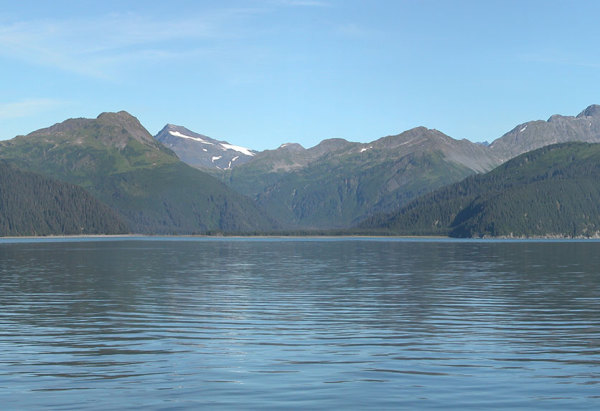 The Same Alaskan Glacier 2004

3. "A FEW DEGREES DON'T MATTER."

During the last ice age, which ended 12,000 years ago, the world's average temperature was only 4-5°C cooler than it is today.


Yet those few degrees have made a drastic difference: parts of Britain were under a mile of ice, and sea levels were about 100 metres lower than they currently are.


Just a few degrees can have very dramatic effects, and what's happening now is at a far greater rate than we've ever seen. More importantly, we know that it's largely caused by human activity.


We've seen just over 1°C over the last century and we're seeing real effects and impacts of climate change on nature and people all over the world – most recently, in the UK, in extreme weather,
both very cold and very hot.


To avoid the worst impacts, we need to keep the already unavoidable rise to 1.5°C. We can do that by cutting greenhouse gas emissions from the energy we produce, the buildings we live in, the way we travel, the products we manufacture and the food we eat.
4. "POLAR BEARS HAVE INCREASED THEIR NUMBERS. THEY HAVE OBVIOUSLY BENEFITTED FROM CLIMATE CHANGE."

This is not true. Climate change is the most serious threat faced by the planet's biggest land-based carnivores. The Arctic is warming roughly twice as fast as the global average,
and the sea ice is melting earlier and forming later each year. This makes it more difficult for females to get onto land in late autumn to make their dens, and onto the sea ice in spring to feed.
In parts of the Arctic, bears are struggling without food for longer than previously. This fasting dramatically reduces their body weight, which in turn reduces their chance of surviving the summer
season.


Loss of sea ice also threatens polar bears' main prey, seals, which depend on sea ice to raise their young and rest. Polar bears are considered 'vulnerable' in the IUCN red list of threatened species,
with between 22,000 and 31,000 remaining in the wild. And their numbers are predicted to decline by 30% by the middle of this century. As the top predator in the Arctic food chain, it is vital to
protect these creatures to ensure that the ecosystem remains balanced.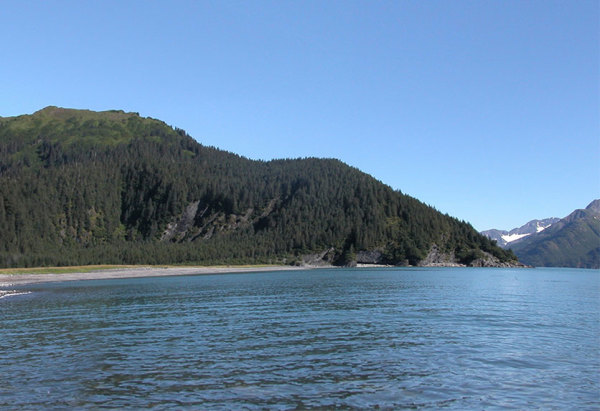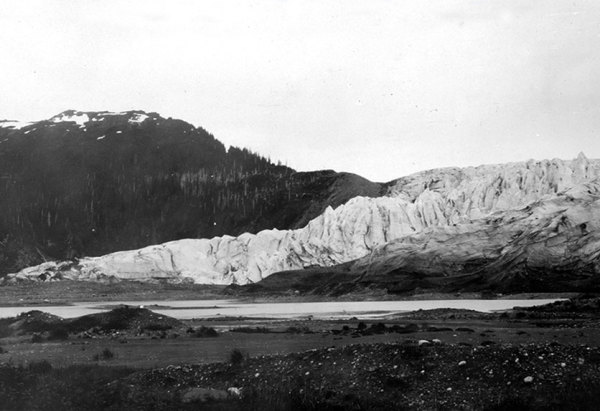 The Same Alaskan Glacier-2004
5. "WIND FARMS AND SOLAR ARE EXPENSIVE AND INEFFICIENT. NUCLEAR, COAL AND OIL ARE THE ONLY REALISTIC WAY TO PROVIDE FOR OUR ENERGY NEEDS."

It's a commonly-held belief that renewable energy is expensive, but solar power has been the cheapest form of energy generation (per unit of energy generated) for a long time, onshore wind costs about the same as gas, and offshore wind is now cheaper than nuclear and close to challenging gas too. The costs of renewables have fallen faster than anyone (including our optimistic climate team!) could have predicted.


There are many misconceptions surrounding this issue; a recent survey found that many people think nuclear power is a cheap source of energy, when in fact it's the most expensive of the currently available forms. Onshore wind is actually the UK's cheapest power source.


Pairing renewable energy with improved technology is actually proving to be very good for your bank account! Technology like double glazing and loft insulation may not sound glamorous, but it reduces our bills and helps save the planet at the same time.


WWF's vision is that we will use 100% renewable energy to provide our energy needs within a generation.
6.
"I THOUGHT A WARMER CLIMATE BROUGHT LESS NASTY WEATHER." Global warming will mean nicer weather in the UK, more Indian summers and less of our British drizzle... right?

You might be forgiven for believing so, with this still being a very common myth about climate change. The truth is far more complicated than that – and it bodes less well for your holiday plans.
The rise in global temperatures that we're experiencing is caused by increasing greenhouse gas emissions and affects weather patterns and ecosystems in complex ways, making storms, floods, droughts and other extreme events more likely.

Global warming means more extreme, erratic, unpredictable weather.

For the UK, we could see less seasonal weather, with colder or warmer winters, more intense heatwaves that last longer and wetter more intense summers. Met Office data shows that climate change makes disasters like Storm Desmond seven times more likely in the UK. We've seen evidence in 2018 already in Europe with the 'beast from the east' extreme cold-snap earlier this year, and right around the northern hemisphere this summer, with a heatwave that broke temperature records all over the place.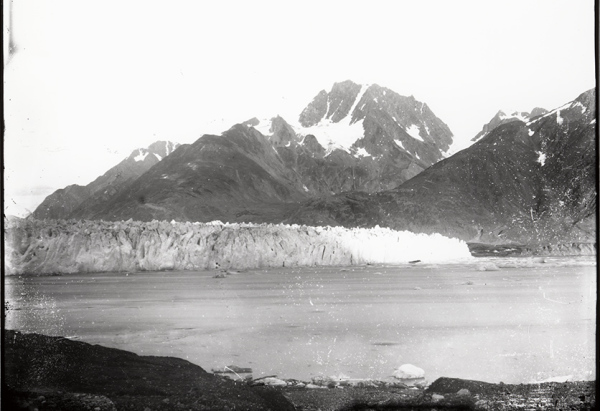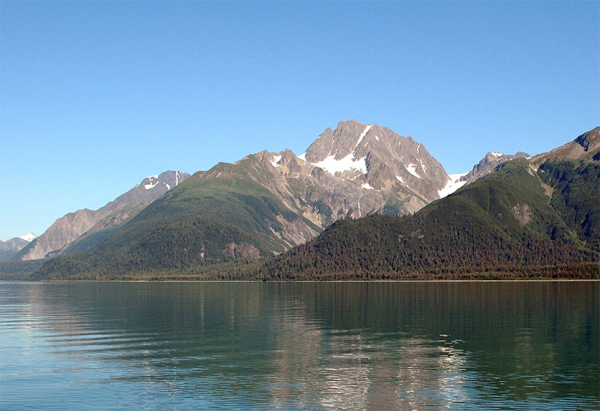 Alaskan Glacier-1892
The Same Alaskan Glacier-2005
7. " WHY IS THE WWF TALKING ABOUT CLIMATE CHANGE?"

Many people ask us why WWF is so involved in tackling climate change. Shouldn't we just stick to saving wildlife, like tigers and pandas?


Here's the stark truth: one in six species is at risk of extinction because of climate change if we don't get things under control. Those species are the ones we're perhaps most familiar with
penguins and polar bears, for example. But it's true of species we see here in the UK, too. Puffins are threatened by climate change, as their prey migrate to colder waters and it becomes harder
for them to source enough food to raise their chicks. It's a similar story for lots of UK seabirds, and this is partly why their numbers have plummeted in recent years.

At WWF their job is to improve the relationship between people and the natural world. Right now, climate change is putting pressure on both, and it affects all the work they do. If we solved every other threat to wildlife but ignored climate change, we'd have wasted our time tackling those other threats!

8. " EVERYTHING IS AFFECTED BY CLIMATE CHANGE, BUT THINGS ADAPT!"

This one isn't a myth, Darwin got the adaptation part right. But let's clarify the wording: everything is affected by climate change, and some things adapt.​


To survive, plants, animals and birds confronted with climate change have two options: move or adapt. There are several examples of species that have begun to adapt to climate change already.


But increasingly it's a different story for many. With the speed of climate change we are experiencing already, it's becoming impossible for many species to adapt quickly enough to keep up with their changing environment. And, as habitats are destroyed by roads, cities and dams, moving becomes increasingly difficult. If you can't adapt quickly enough, and you can't move – then you die.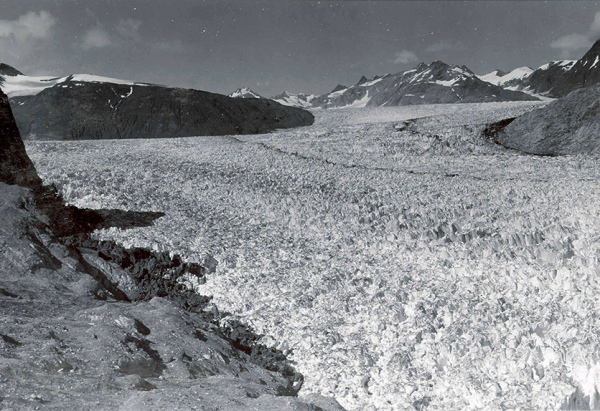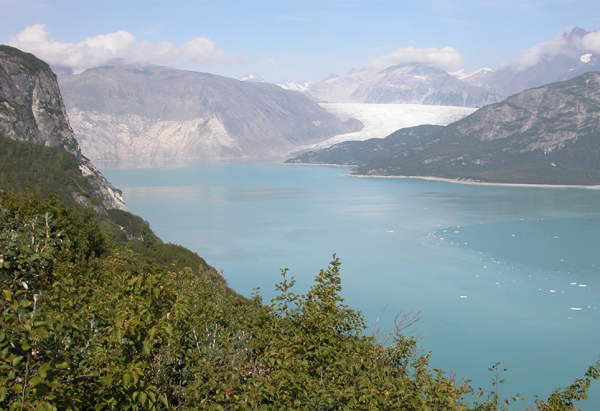 Alaskan Glacier-1941

The Same Alaskan Glacier-2005
9. "GLOBAL WARMING WAS MADE UP AS A WAY TO MAKE MONEY."

Climate change has been verified by almost every nation-state today in some form; if it was a conspiracy by one group, then why is everyone standing behind it? Because the science is easily attainable and verified – and supported by 97% of climate scientists, with the rest having no single, coherent and verified an alternative theory. You can check the data and the science right now if you want to.


Climate change is one of the biggest challenges of our time, and it's our responsibility to tackle it urgently. The time has gone for us to pass this problem onto the next generation; we must face up to this now.

10. THE ONLY WAY THIS PLANET WILL SURVIVE IS US HUMANS GETTING WIPED OUT.

This, we firmly believe, is wrong. It's easy to start feeling that we've gone too far already and that the best thing for our planet would be the extinction of the human race.


It's WWF's mission to build a world where people and nature thrive together. The technology and systems we need to move to 100% renewable energy by 2050 and use our planet's resources sustainably are already available.


Humans and wildlife can benefit each other. We can learn to live in harmony with the natural world.


Let's do it!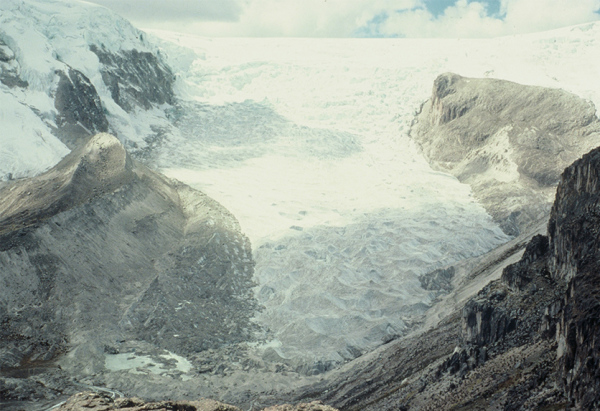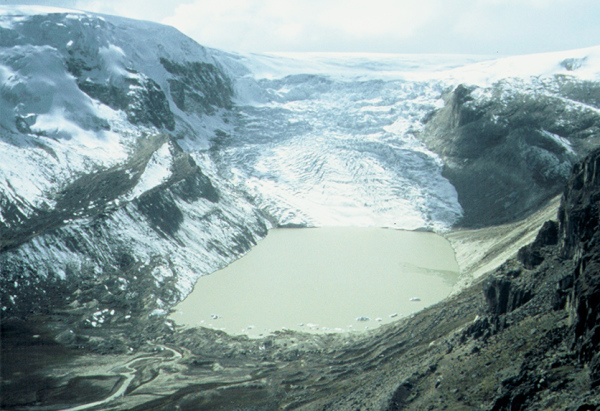 Qori Kalis Glacier-1898
The Same Glacier-2005
THE FACTS
THOSE ARE THE MOST COMMON TOP 10 MYTHS REGARDING CLIMATE CHANGE. SO HAVING DISPELLED THOSE WE WILL NOW LOOK AT THE FACTS OF CLIMATE CHANGE WITH VERIFIED EVIDENCE TO SUPPORT THAT IT IS REAL AND ACCELERATING RAPIDLY.
Climate change has pushed Earth into "uncharted territory". That was the stark warning published in a World Meteorological Organisation report in March of this year. Rising sea levels, melting arctic
ice and record high temperatures are just some of the telltale signs.
The Paris Agreement was implemented as a collaborative global response to climate change, with a goal of reducing emissions. It aims to keep the global temperature rise to just 1.5°C, which would
significantly reduce the risks and the impacts associated with climate change. President Donald Trump later decided to pull the US out of the agreement, describing the move as "a reassertion of
America's sovereignty".
While a dwindling band of refuseniks still insist that it doesn't exist, climate change is already here, and it's only going to get worse, with some of the severe effects having already started to
take hold.

1. TEMPERATURES ARE BREAKING RECORDS AROUND THE WORLD
The 21st century has seen the most temperature records broken in recorded history. 2016 was the hottest year on record since 1880, according to Nasa and the National Oceanic and Atmospheric
Administration (NOAA), with average temperatures measuring 1.78 degrees Fahrenheit (0.99 degrees Celsius) warmer than the mid-20th century mean. This makes 2016 the third year in a row to set a new record for global average surface temperatures. Since the 1950s, every continent has warmed substantially. Nasa's latest visualisation below make that reality stark.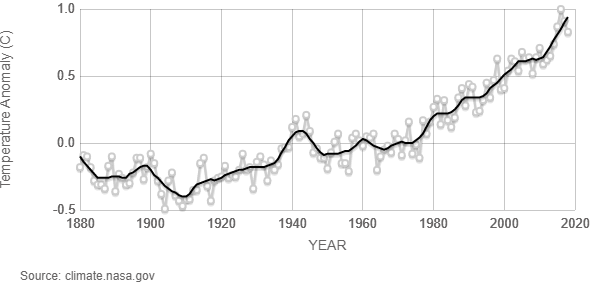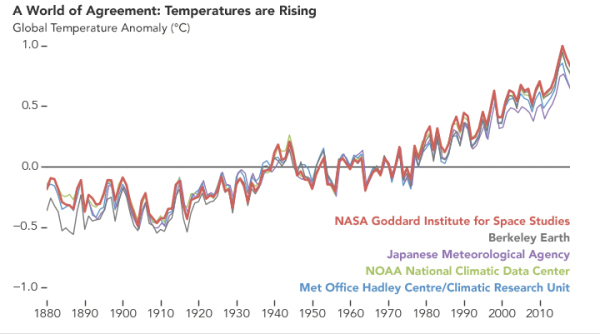 2. THERE IS NO SCIENTIFIC DEBATE ABOUT THE REALITY OF CLIMATE CHANGE
Multiple studies show that a massive 97 per cent of researchers believe global warming is happening and that they agree that trends observed over the last past century are probably due to human activity. But climate change is considered only the third most serious issue facing the world by the world's population, behind international terrorism and poverty, hunger and the lack of drinking water, according to YouGov research.
3. ARCTIC SEA ICE AND GLACIERS ARE MELTING
Arctic sea ice coverage has shrunk every decade since 1979 by 3.5 to 4.1 per cent. Glaciers have also been in retreat, including in major mountain ranges like the Alps, Himalayas and Rockies.
In 2017, Arctic sea ice reached a record low for the third straight year running, according to scientists from the National Snow and Ice Data Center (NSIDC) and Nasa.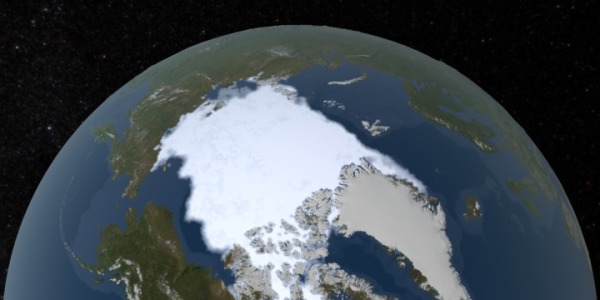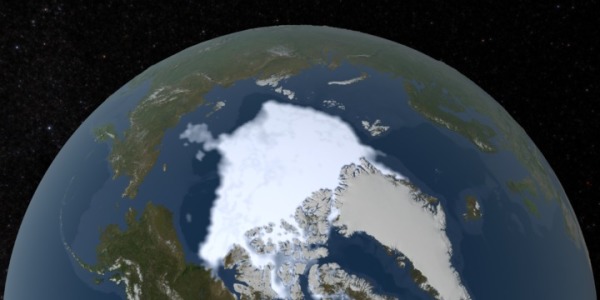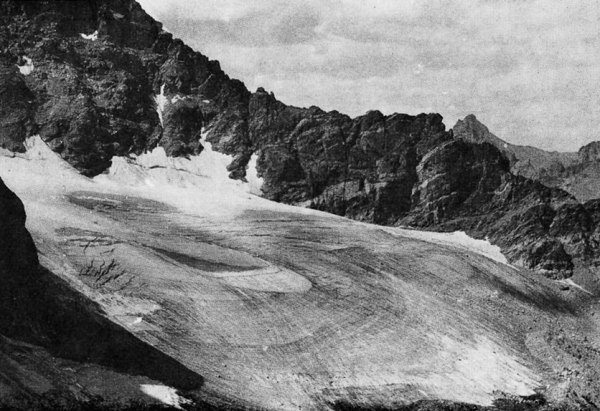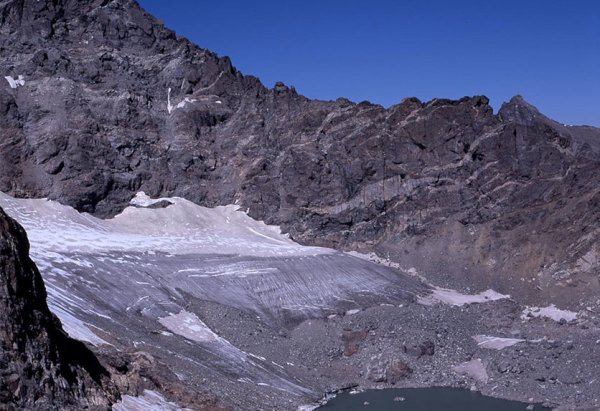 ROCKY MOUNTAIN GLACIER-1898
ROCKY MOUNTAIN GLACIER-2003
4. SEA LEVELS ARE RISING AT THEIR FASTEST RATE IN 2000 YEARS
Rising sea levels is caused primarily by the added water from melting ice sheets and glaciers, as well as the expansion of sea water as it warms. Levels are currently rising at their fastest rate for more than 2,000 years and the current rate of change is 3.4mm a year. In July, a massive crack in the Larson C ice shelf finally gave way sending a 5,800 square km section of ice into the ocean.
The newly formed iceberg is nearly four times the size of London.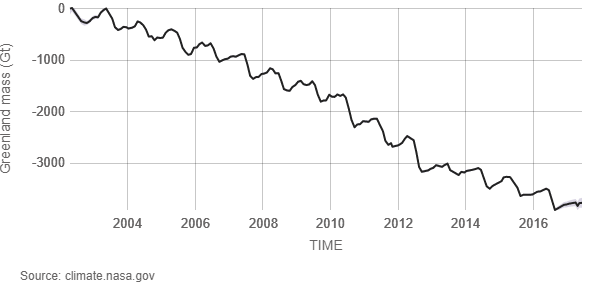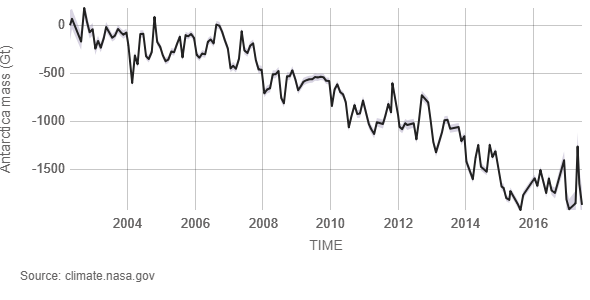 GREENLAND SEA ICE DECLINE
ANTARCTICA SEA ICE DECLINE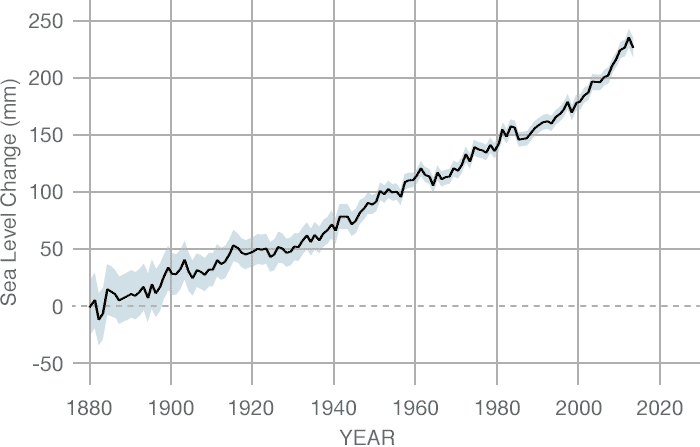 5. CLIMATE CHANGE WILL LEAD TO A REFUGEE CRISIS
Displacement of people as a direct result is not a hypothetical, it's already happening. An average of 21.5 million people have been forcibly displaced since 2008 due to climate changed-related weather hazards, according to the United Nations High Commissioner For Refugees. The organisation says that climate change also acts as a 'threat multiplier' in areas of ongoing conflict. "Climate change sows seeds for conflict, but it also makes displacement much worse when it happens," it says.
​

6. WE WILL CONSUME ALL OF EARTHS 2017 RESOURCES BY AUGUST 2019

​​
Earth Overshoot Day is an annual event when humanity's consumption outstrips Earth's production of resources. This annual event is getting earlier and earlier in the year. In 2000 it landed in October. In 2015, it was August 13. This year, it landed on August 2. The world's superpowers – including China, the US, the UK, Germany and Japan – already use more than double the amount of resources they produce.
7. TWO THIRDS OF THE GREAT BARRIER REEF HAS BEEN DAMAGED AS A RESULT OF CLIMATE CHANGE
In April 2017, it was revealed that two-thirds of Australia's Great Barrier Reef has been severely damaged by coral bleaching. This occurs when algae living within the coral tissue are expelled, usually as a result of water temperatures being too high. As a result, the coral loses its vibrant appearance, turns white and becomes weaker. Scientists say it will be hard for the damaged coral to recover.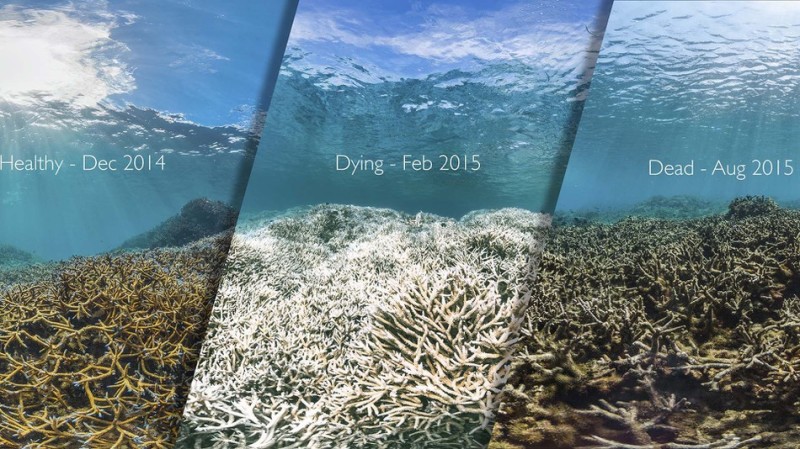 8. THE OCEANS ARE 26% MORE ACIDIC THAN BEFORE THE INDUSTRIAL REVOLUTION
The pH of ocean surface water has decreased by 0.1, which makes them 26 percent more acidic now than at the beginning of the Industrial Revolution. The waters are more acidic now than at any other point in the last 300,000 years.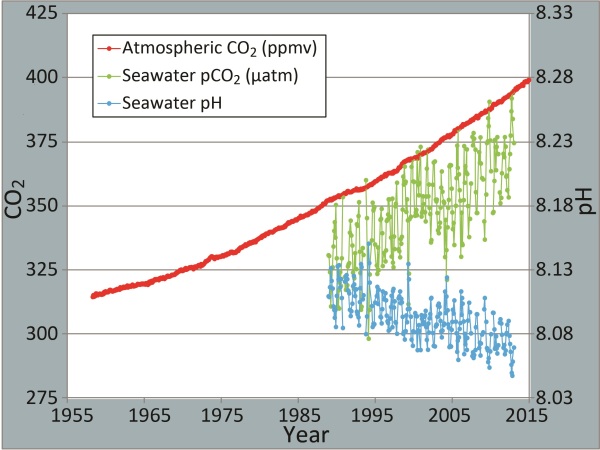 OCEAN ACIDITY CHANGE GRAPH
9. GLOBAL FLOODING COULD TRIPLE BY 2030
The number of people exposed to flooding each year is at risk of tripling from 21 million to 54 million by 2030, according to a study from the World Resources Institute. This would result in the
economic costs of flooding increasing from £65 billion to around £340 billion.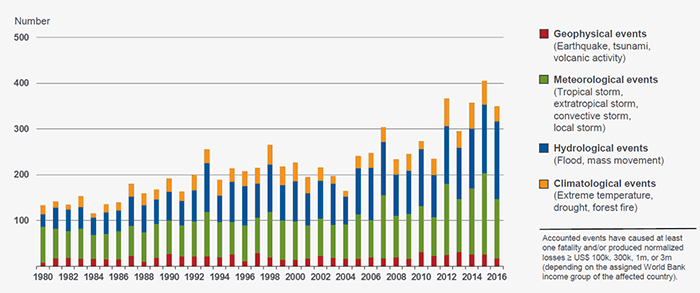 10. MORE GREENHOUSE GASES ARE IN OUR ATMOSPHERE THAN AT ANYTIME IN HUMAN HISTORY
The concentration of carbon dioxide in the atmosphere reached the milestone of 400 parts per million for the first time in 2015 and surged again to new records in 2016, according to the World
Meteorological Organization's annual Greenhouse Gas Bulletin.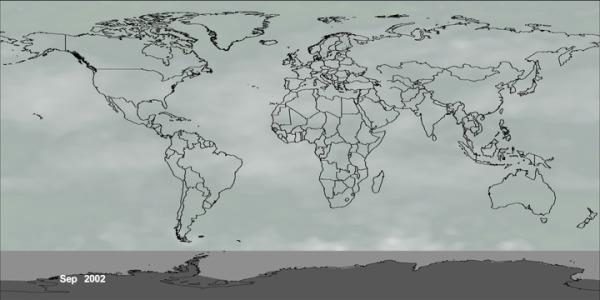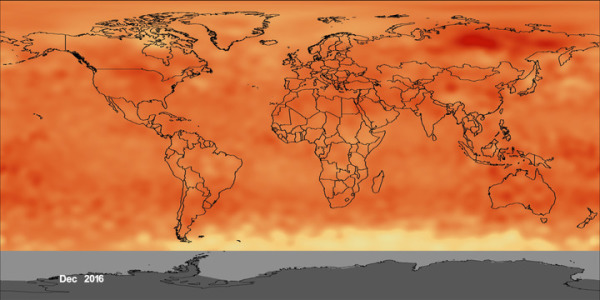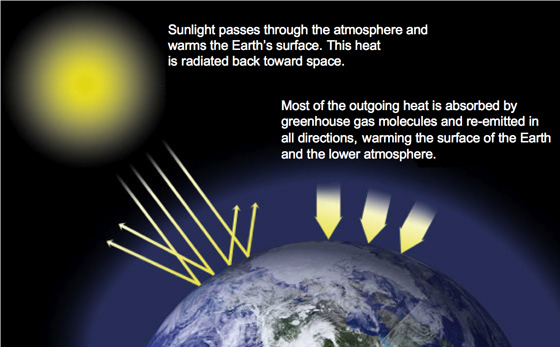 TRANSPORTATION CONTRIBUTION TO CLIMATE CHANGE
HOW GREENHOUSE GAS WARMS EARTH

 
11. EARTH COULD WARM BY AS MUCH AS 4C THIS CENTURY
The Earth's temperature will continue to rise so long as we continue to produce greenhouse gases. The estimates for how much temperatures will increase by 2100 range from two degrees Celsius to as much as four degrees Celsius.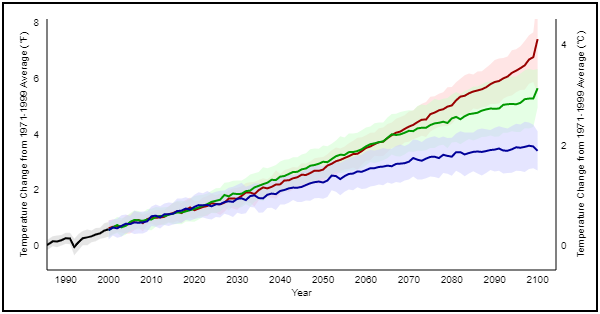 TEMPERATURE PROJECTION GRAPH-2000 TO 2100
LIKELY CLIMATE CHANGE EFFECTS HERE IN THE UK
HOW IS CLIMATE CHANGE AFFECTING THE UK
​While the climate crisis affects some places more acutely than others, the writing's on the wall everywhere: We need to accelerate the global shift from the dirty fossil fuels driving climate change
to renewables so we can power our lives and economies without destroying our planet.
The United Kingdom seems to have gotten this message loud and clear. In 2017, the UK powered itself for a full day without coal for the first time since the Industrial Revolution, and in the
beginning of this year, it announced plans to phase out all coal-fired power plants by 2025.
The nation's efforts aren't just about cutting coal, but about replacing fossil fuels with smarter and cleaner forms of energy. Scotland in particular has grown into a global leader in wind energy,
with ambitious plans to produce the equivalent of 100 percent of its gross annual electricity consumption through renewables by 2020.


In 2017, renewables accounted for almost one-third of all electricity generation in the entire UK, and there's a very good reason for the concerted effort: The UK is feeling the impacts of the
climate crisis and is taking action to stop it.


"We are seeing a trend towards warmer winters and hotter summers, sea levels around our coast are rising by around 3mm a year, and there is emerging evidence of changing rainfall patterns," the UK government said in a 2017 report to Parliament. The list doesn't end there. From extreme heat and powerful storms to public health, the consequences of our warming world are becoming a daily reality.

TEMPERATURE PROJECTIONS UP TO 2100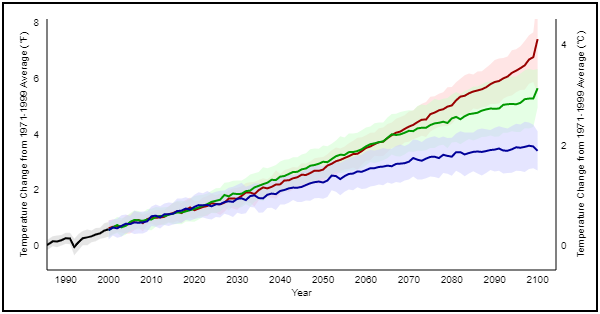 The projections for winter rainfall, below, show a more consistent increase across the country, with the largest increases around the coast – particularly in the very north and very south of the UK.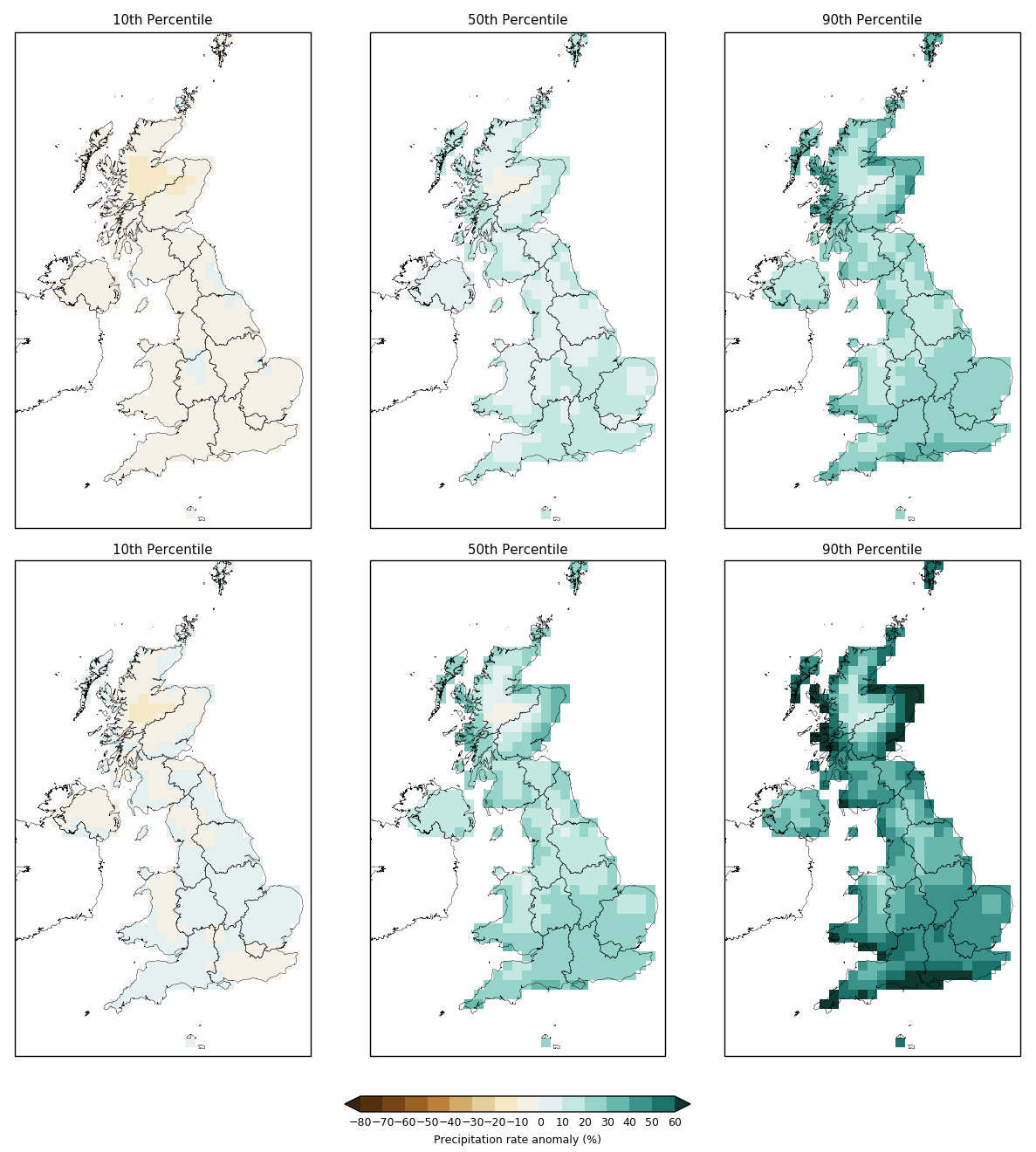 OPTIMISTIC SCENARIO
LIKELY SCENARIO
In general, the projections for average rainfall show a varied pattern. The maps below of summer average rainfall changes show the largest summer decreases in the south – particularly the southwest. Overall, the projections show "a clear shift to higher probability levels of dry summers", says the Met Office, but with the "likelihood of individual wet summers reduces only slightly".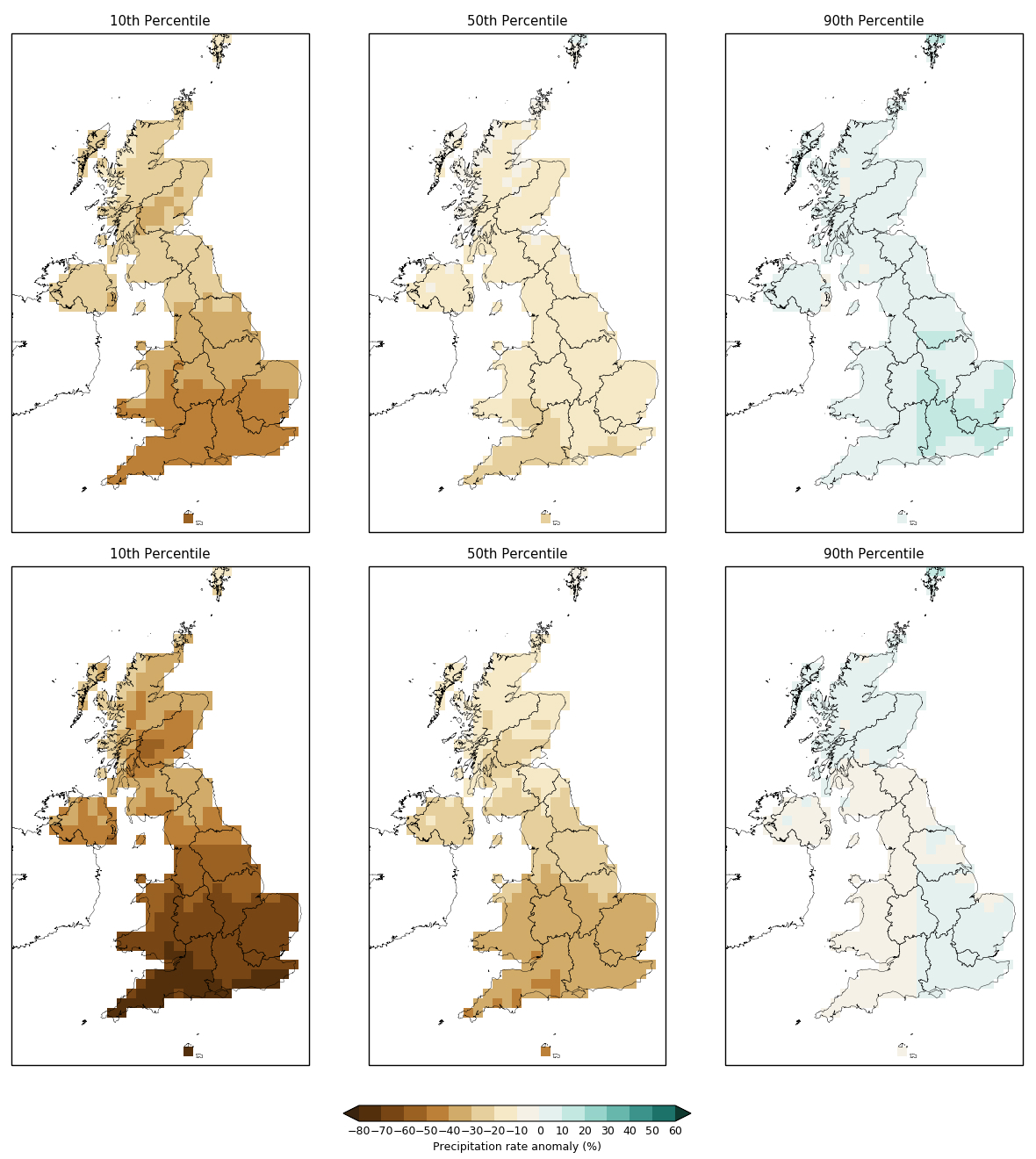 LEAST OPTIMISTIC SCENARIO
UK SEA LEVEL RISES
The table below shows SLR projections  throughout the 21st century for the capital cities of the UK's four nations, all relative to a 1981-2000 baseline.
The projections suggest larger increases in relative sea level rise in the south than the north. For example, the RCP2.6 estimates for 2100 in London (0.70m) and Cardiff (0.69m) are noticeably higher than for Edinburgh (0.49m) and Belfast (0.52m).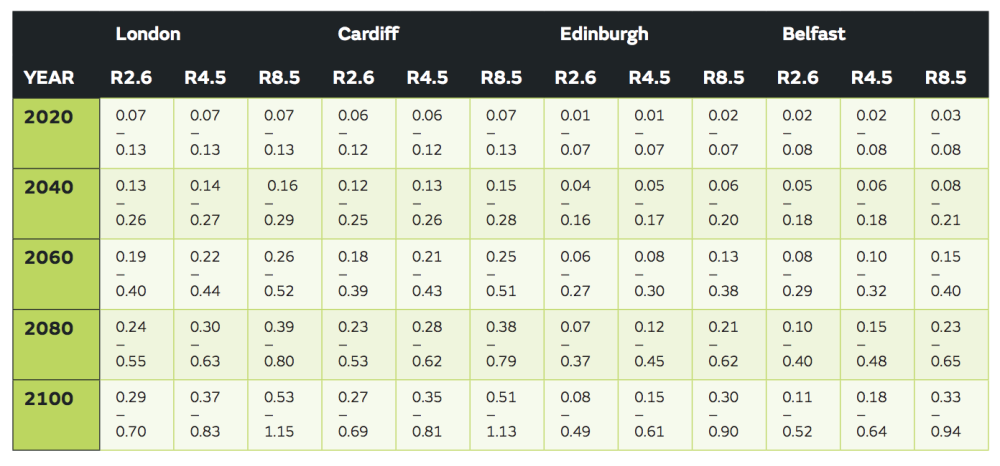 INCREASED SEVERE WEATHER RISK
It is a well documented fact that more severe weather events have occurred both here in the UK and worldwide in the last 50 years. The incidence of floods and heat are causing all sorts of repercussions on what seems a daily basis and even when compiling this report the UK has once again broke an all time record of achieving a temperature of 21C in Winter on the 26th February. As the years unfold these type of severe events of excess heat, storms and floods will continue to increase in frequency so that events like the recent February warmth could happen as often as 1 year in two by 2050. The below bar graph indicates the increase in a variety of events since 1980 which have a link to 'Climate Change'.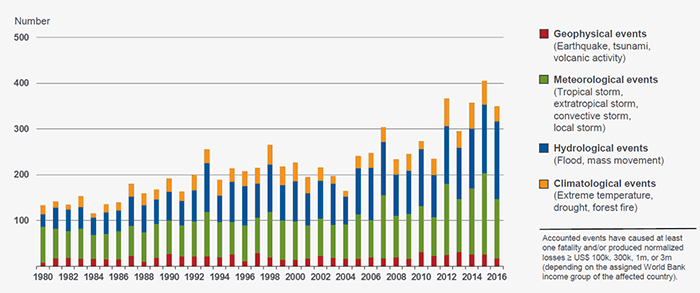 CONCLUSION
​  I hope you find the information above helpful and hopefully a bit alarmist as the situation regarding 'Climate Change' is very real and not fiction. We live in a very fast modern world where lifestyles are ever evolving but unfortunately the same speed cannot be attributed to the way that Climate Change is being tackled by world governments. Some of the biggest carbon guzzlers such as the states and China fail to embrace the efforts of smaller conurbations like Europe in the way the problem is tackled, preferring instead to gain short term wealth by continuing to use carbon methods to support industry.
I know it's not easy to promote Climate Change as anything but a pleasant thing when events happen like February 2019 when the UK and much of Western Europe experienced it's first ever 21C 70F temperature in Winter time. However, the natural world including all the food we eat is largely climate dependent and extremes and out of season events will confuse and hinder normal welfare of animal and food crops to the extent of food shortages, soaring food prices and extinction of many species if action is'nt taken.
As individuals we can only do a limited amount unless government legislation forces us out of our motor cars and onto cleaner more reliable public transport to do our work. Air Travel too is another thing that has grown terrifically in recent years and so has the pollution it creates, and yet we all strive overseas for our holidays (me included) as we dont want our smug, comfortable standards of life to be depleted and who can blame us. We all work hard for our livings.
The problem has been we have discounted the effect of Climate Change for too long and it's only now that some nations are adopting technologies to tackle the problem and that's good-it's just 20 years too late. Climate Change has been known about for 20-30 years at least and we could of acted then so that by now we would be well on the way to limiting the effects of climate change. Remember the effects now are largely due to the cumulative effects of the 'Industrial Revolution of the 50's and 60's and the effects of our carbon burning emissions of today have still to be felt in 30-50 years time.
It is clear that we are going to have to endure 'Climate Change' for the next 100 years at least and if we dont do something about it NOW then there will be catastrophic circumstances for our children, grandchildren and our grandchildren's children and as some recent school demonstrations by youngsters have recently and rightly shown they are not thanking us for the mess we're in today.
Still I'm sure that many even after reading this evidential information here will disbelieve the validity of 'Climate Change' putting it down to natural variations in climate. My answer to that is Natural variations have indeed occurred in the past but over 1000's of years. Climate Change is happening over 10's of years and at a faster pace than even some scientists projected. We in the UK may not experience the worst of it but some parts of the world will soon be submerged under water and displaced elsewhere taking with them a refugee crisis and wildlife extinction.
Here's just a few stats to finish on using my own data
The top 5 Summer temperatures of the last 15 years with the exclusion of 2006 have all occurred since 2010 and the summer of 2018 was the 2nd warmest beaten only by that hot summer of 2006.
Of The top 20 highest temperatures recorded locally 13 out of the last 20 have been recorded since 2010.
Nights are warmer too in Summer with the record beaten on the 20th July 2016 when the lowest temperature even here at a village location failed to drop below 20C for the first time ever and of course we've just witnessed another record tumble as 21C was reached in February for the first time ever at 'Kew Gardens' in London at the end of February 2019.
We've also had notable floods in Somerset in 2014 which were partly connected to the vast out of kilter temperature contrasts between tropical and polar air sources colliding at that time over Southern Britain and Yes even the so called 'Beast From The East' can loosely be connected with unusual weather synoptics linked to Climate Change too.
So it all adds up to chaotic future for us all but with the right will and resource from World Governments the problem of Climate Change is not insurmountable I just wish they would get on with it and quick as the clock is ticking.